Alaska Science Center
Welcome to the U.S. Geological Survey (USGS) Web page for the resources of Alaska. We are providing timely, relevant, and impartial study of the landscape, natural resources, and natural hazards for Alaska and our nation.
Current Highlights
USGS Honors Chevak Traditional Council Partnership with New Book at Presentation Ceremony

USGS Geologist Speaks to University Students

Using Airborne LiDAR to Observe Landscape Change in the Arctic

New Interpretation of the Geologic History of South-Central Alaska
In the Spotlight
Press Release: Zoo Polar Bear Sports High-Tech Neckwear for Conservation
Tasul, an Oregon Zoo polar bear, recently landed her first white-collar job: research assistant for the U.S. Geological Survey. Her assignment: wearing a high-tech radio collar with an accelerometer to help solve a climate change mystery. Anthony Pagano, wildlife biologist with the USGS Alaska Science Center is leading this study for the USGS Changing Arctic Ecosystems Initiative. He will be recording video of Tasul wearing the collar and matching her behavior to the signal from the accelerometer allowing researchers to create a digital fingerprint for polar bear behavior. This unique opportunity to work with captive animals will greatly expand the utility of data collected from wild bears, and will help scientists to understand how polar bears are responding to the rapid loss of the Arctic sea ice. To view press release visit: http://www.usgs.gov/newsroom/article.asp?ID=3653. Also follow on Facebook and Twitter.
Changing Arctic Ecosystems—New Fact Sheet Describes Research in Boreal-Arctic Transition Zone
Through the Changing Arctic Ecosystems research initiative, the USGS strives to inform key resource management decisions by better understanding how wildlife populations of special interest to the Department of the Interior are responding to rapid physical changes in the Arctic. The initiative includes several research themes, including one focused on the Boreal-Arctic transition zone that evaluates (1) how the distribution, abundance, and community structure of breeding birds are related to climate-driven habitat conditions; (2) how rapidly the distributions of birds and their habitats are changing in this transition zone; and (3) how avian recruitment and survival are affected by climate and climate-driven habitat conditions. Results from these studies will be used to forecast which avian species, communities, habitats, and core geographic areas are likely to be most vulnerable to projected climate changes. In a new fact sheet published this week, the USGS highlights the research being conducted within the Boreal-Arctic transition zone. The fact sheet is available at http://pubs.usgs.gov/fs/2013/3054/.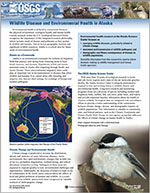 New Fact Sheet Provides Information on New and On-going Research Related to Wildlife Disease and Environmental Health in Alaska

Wildlife and environmental health research at the USGS Alaska Science Center focuses on emerging wildlife diseases, movement and transmission of pathogens between continents and within Alaska, and the impacts of disease to wildlife populations. Information from this research will inform decision-making by wildlife management and human health agencies.
USGS Science in Alaska Portal
The portal is a searchable, web map-based tool to facilitate public and partner access to information on over 200 subjects under USGS study in the Nation's largest State.

Research Initiatives
Changing Arctic Ecosystems—The Changing Arctic Ecosystems initiative includes Arctic ice-dominated ecosystems research which focus on understanding the relationships between physical processes, ecosystems and wildlife populations.
Recent Publications
A multi-locus evaluation of ermine (Mustela erminea) across the Holarctic, testing hypotheses of Pleistocene diversification in response to climate change
Effects of wind energy development on survival of female greater prairie-chickens
Recent lake ice-out phenology within and among lake districts of Alaska, U.S.A
Identification of unrecognized tundra fire events on the north slope of Alaska
Species and Life History Affect the Utility of Otolith Chemical Composition for Determining Natal Stream of Origin for Pacific Salmon
Intercontinental migratory connectivity and population structuring of Dunlins from western Alaska
Sex identification of duck embryos and note on embryonic syrinx development of sexual dimorphism
Incision into the Eastern Andean Plateau During Pliocene Cooling
Thermokarst and thaw-related landscape dynamics—An annotated bibliography with an emphasis on potential effects on habitat and wildlife
Search our publications
Water Real-time Information