Alaska Science Center
Welcome to the U.S. Geological Survey (USGS) Web page for the resources of Alaska. We are providing timely, relevant, and impartial study of the landscape, natural resources, and natural hazards for Alaska and our nation.
Current Highlights
USGS Leading Pacific Walrus Age-structure Survey in the Chukchi Sea

USGS Participates in Polar Bear Conservation Management Plan Meeting with the State of Alaska and North Slope Borough

USGS Scientist Speaks to Colorado School of Mines Students and Faculty

USGS Tracks Shorebird from Chile to Alaska—8,200 Miles
In the Spotlight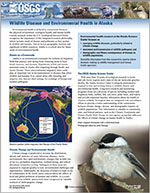 New Fact Sheet Provides Information on New and On-going Research Related to Wildlife Disease and Environmental Health in Alaska

Wildlife and environmental health research at the USGS Alaska Science Center focuses on emerging wildlife diseases, movement and transmission of pathogens between continents and within Alaska, and the impacts of disease to wildlife populations. Information from this research will inform decision-making by wildlife management and human health agencies.
Interagency Working Group Calls for Integrated Management and Planning for a Rapidly Changing Arctic
USGS Alaska Science Center Scientists and Managers served as members of writing teams that helped develop the newly released report to the President "Managing for the Future in a Rapidly Changing Arctic".

The Department of the Interior (DOI) press release for the Integrated Arctic Management report is posted on the DOI website at: http://www.interior.gov/news/pressreleases/interagency-working-group-calls-for-integrated-management-and-planning-for-a-rapidly-changing-arctic.cfm
USGS Changing Arctic Ecosystems Initiative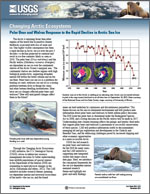 New Fact Sheet Provides Update on Polar Bear and Walrus Response to the Rapid Decline in Arctic Sea Ice
Fact Sheet is online at http://pubs.usgs.gov/fs/2012/3131/
New Fact Sheet Provides Update on Measuring and Forecasting the Response of Alaska's Terrestrial Ecosystem to a Warming Climate
Fact Sheet is online at http://pubs.usgs.gov/fs/2012/3144/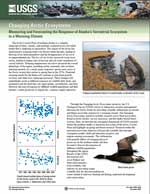 Through the Changing Arctic Ecosystems (CAE) initiative, the USGS strives to inform key resource management decisions by better understanding how wildlife populations of special interest to the Department of the Interior are responding to rapid physical changes in the Arctic. The CAE initiative includes several research themes, including one focused on the marine ecosystem and effects of recent declines in sea ice on the polar bear and walrus and another focused on Arctic terrestrial systems and a range of focal wildlife species dependent on that environment. USGS has published two new Fact Sheets to highlight the integrative modeling framework, new technologies being developed and early findings of these research themes.
USGS Science in Alaska Portal
The portal is a searchable, web map-based tool to facilitate public and partner access to information on over 160 subjects under USGS study in the Nation's largest State.

Research Initiatives
Changing Arctic Ecosystems - The Changing Arctic Ecosystems initiative includes Arctic ice-dominated ecosystems research which focus on understanding the relationships between physical processes, ecosystems and wildlife populations.
Recent Publications
Carbon Cycling in Landscapes Across High-Latitude Regions
Mercury and water-quality data from Rink Creek, Salmon River, and Good River, Glacier Bay National Park and Preserve, Alaska, November 2009-October 2011
Linkages between sea-ice coverage, pelagic-benthic coupling, and the distribution of Spectacled Eiders: observations in March 2008, 2009 and 2010, northern Bering Sea
Air temperature, wind speed, and wind direction in the National Petroleum Reserve—Alaska and the Arctic National Wildlife Refuge, 1998-2011
Using detrital zircon ages and Hf isotopes to identiry 1.48-1.45 Ga sedimentary basins and fingerprint sources of exotic 1.6-1.5 Ga grains in southwestern Laurentia
Shallow groundwater in the Matanuska-Susitna Valley, Alaska—Conceptualization and simulation of flow
Water quality of streams draining abandoned and reclaimed mined lands in the Kantishna Hills area, Denali National Park and Preserve, Alaska, 2008–11
High seroprevalence of antibodies to avian influenza viruses among wild waterfowl in Alaska: Implications for surveillance
Evidence that Life History Characteristics of Wild Birds Influence Infection and Exposure to Influenza A Viruses
Search our publications
Water Real-time Information